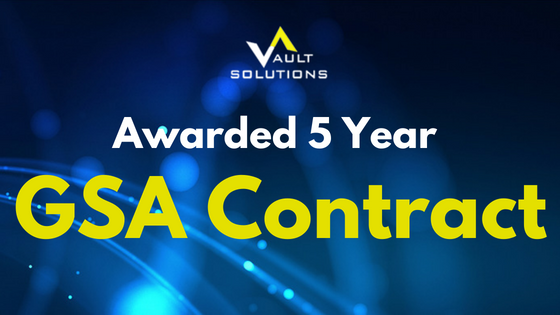 We are pleased to announce that in June, 2018, the US General Services Administration (GSA) awarded Vault Solutions a 5-year GSA contract. We are excited that two of our products are currently listed in the schedule. This is an honor for us, and greatly streamlines the process for federal agencies to purchase Vault Solutions' software – a bonus for our government clients!
This process, which spanned several months, was like no other Vault Solutions has experienced. From vetting our financial security, to surveying our customers to ensure excellent customer satisfaction, to proving that our prices are competitive, the GSA process for both Archive Accelerator Restore and Archive Accelerator Enterprise Search was extremely thorough and in-depth.
In the past, if a government agency wanted to purchase Vault Solutions software, the process could be long and drawn out as each entity would have to do their own due diligence. Now, our inclusion in the GSA price book will make it easier for public sector entities to procure our software. Federal and state organizations can now take advantage of cooperative purchasing and bulk discounts and can purchase through gsaadvantage.gov.
The two products available on the schedule are Archive Accelerator Restore and Archive Accelerator Enterprise Search, both making the organization and utilization of VeritasTM Enterprise Vault archived messages easier and more streamlined. Archive Accelerator Restore can be used to bring items archived in Enterprise Vault back into mailboxes or into Office 365 or Google, while Archive Accelerator Enterprise Search enables end users to search for messages they sent or received in Enterprise Vault Journal or SMTP Archives.
We're excited to be able to offer this opportunity to our government affiliated customers, and we look forward to deepening our relationships with the public sector. Government agencies are invited to view and order our software online, and reach out to us with any questions or requests.
About:
Since its founding in 2006, data management solutions provider Vault Solutions and their team of industry experts have witnessed the power of Veritas (formerly Symantec) Enterprise Vault first-hand. Working closely with customers to successfully create new strategies for adding value to their Enterprise Vault deployments, the team is committed to helping clients manage and extend the power of Veritas Enterprise Vault and other unstructured content technology. Vault Solutions LLC is a veteran owned small business.