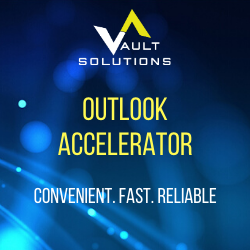 Outlook Accelerator for VeritasTM Enterprise Vault allows organizations to conveniently Restore/Delete.
Restore/Delete provides an easy and robust way for users to restore individual or entire folders of their archived items to their mailbox.
The items are restored and then deleted from Enterprise Vault. This is important when users require control of how many copies of their items exist. Law firms often need to ensure that if a user deletes an item from their mailbox, a copy of that item no longer remains in the archive.
*Supports Outlook 2010, 2013, 2016, and 2019
*Supports Windows XP, Windows Vista, Windows 7, Windows 8, Windows 8.1, and Windows 10