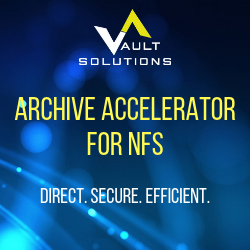 With Archive Accelerator for NFS, we're introducing the ability to manage data on Network File System (NFS) storage, much like Enterprise Vault's File System Archiving (FSA) manages data on Windows-based NTFS file systems.
Central is an ability to leverage the system for both e-Discovery and archiving. Archive Accelerator for NFS e-discovery scans NFS mount points and imports only the metadata of files and directories. Compatible with Enterprise Vault versions 11, 12, and 14, the solution records important information – such as file or directory location, name, owner, or last modified date – then indexes and makes it searchable via core Enterprise Vault search methodologies. Archive Accelerator for NFS e-discovery is capable of storing, indexing, and searching the following types of metadata:
Server

Full NFS Path

Mode Protection Bits

File Owner/Group

Last Accessed Date/Time

Date or Time Creation/Modification

Size

IsSymbolic

IsDir

Absolute/Relative Path to Target File or Directory
Archive Accelerator for NFS Archiving can be used to access data stored on NFS-accessible storage devices, then moving it to lower-cost storage connected to Enterprise Vault archiving servers. The archived data is optionally replaced by shortcuts, providing transparent access to data from any NFS client. There is no need for special software or drivers.