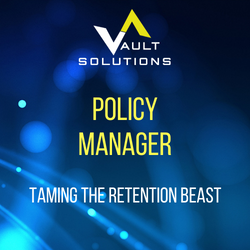 Manage your archived data to meet new compliance and government regulations, business rules, and more with Policy Manager.
Policy Manager gives you the flexibility to build searches based on metadata, allows you to implement new retention rules on previously archived data and remove data that should no longer be retained, and provides sub-second speed and responsiveness when filtering the data to be processed.
Policy Manager is used to filter billions of messages in Enterprise Vault with unparalleled speed and responsiveness.
Action can then be taken on the filtered data to help implement current compliance policies. For example, a new retention category can be set on filtered data. This new Retention Category is placed on items without the need to reindex the data in Enterprise Vault.