Meet Jeremy, Vault Solutions Co-Founder and Lead Software Engineer. He's been with the company since it was started in December of 2006. "Holy Moly!," he says… "Has it really been a decade?" See what makes Jeremy tick in this edition of Meet the Team!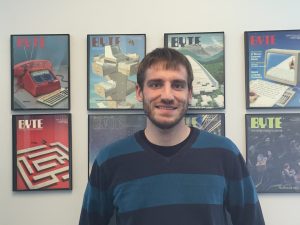 What brought you to Vault Solutions?
So one night in 2006, I was visiting my parents, probably watching Lost, and my dad exclaims, "Why don't we start our own company?"  No one had a good answer!
At the time I was working as PM Logic, my own little software consulting gig.  Most of PM Logic's work actually came from him, though.  So, without even knowing it, PM Logic was a sort of "proof of concept" for Vault Solutions.  The beta!
What do you love about what you do every day?
There's nothing more satisfying than wracking my brain for a solution, translating the solution into code, then hitting a switch and watching it all work.  It can feel like magic, like casting a spell, and it's fantastic.  Sometimes I even do a little victory dance after!
What do you do when you're not at the office?
Last night I talked philosophy and watched Star Trek with my girlfriend – the perfect night IMHO.
Also I also love astronomy, hiking, gaming, coffee with friends… and wow, that sounds just like my online dating profile.  Which I can take down now, by the way!
What's a fun fact that most people don't know about you?
Every chair I sit in for more than 20 minutes a day – my office chair, home office chair, couch, the driver's seat of my car – has Yoda and/or Darth Vader somewhere in view.  Usually both.
What else would you want people to know about you and what your unique contributions to the team are?
Naturally, working in a team with deadlines and support calls and more deadlines and more support calls, it can get stressful for all of us!  So sometimes I'll try to loosen it up with some random humor.  Completely random and off the hook – or even hardcore, if I'm running on Redbull.  Either way it's straight to the dome, so we can laugh and take a breather… then back to work!
What else should we know, Jeremy?
The company wouldn't be a success without the whole team: engineers, testers, support, my mother, father, brother.  Everyone has put so much work into it, and I really love working with them.  May we all continue to live long and prosper!