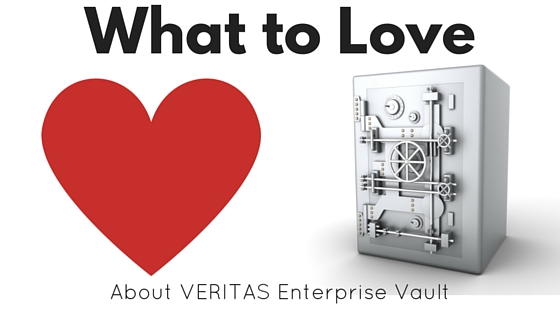 When there is a massive amount of data to be managed, any solution that might keep that information safe, secure, and at the ready, sounds like a good idea. However, not all solutions are alike and what's not so clear is which one is best for your needs.
Are you responsible for figuring out what to do with your organization's mission-critical information? Do you have to decide to keep or delete it? What's your retention policy going to be? How do you manage access to it by end users and administrators alike?
When you deploy on-premises with VERITAS™ Enterprise Vault™, in the cloud with VERITAS Enterprise Vault.cloud, or in a hybrid configuration, you retain relevant and meaningful information to meet legal, regulatory, or compliance guidelines.
As an archiving system, VERITAS Enterprise Vault features robust storage, indexing, and retention that rivals any other data archiving platform. We may be a little biased, but here are some of the features that stand out with Enterprise Vault:
Storage 

Archive data used less frequently, across multiple content sources 

Scales to billions of items 

Migrate old data to less expensive storage 

Single instancing 

Compression 

Widely supported across most storage platforms
Indexing 

Robust 64-bit indexing engine 
Retention 

Set retention policies 

Automatic expiration 
Now that we've taken a quick look at some of the cool features that make Enterprise Vault stand out, how easy is it to use? Right out of the box, Enterprise Vault has a seamless end user experience, simplified installation, administration, and flexibility that includes:
Archiving across multiple content systems 

Microsoft® Exchange and IBM® Domino® Email 

Windows® File System 

SharePoint® 
Easy Access to archived information anytime 

Microsoft Outlook®/ OWA 

IBM Notes®/DWA 

Browser Search 

Archive Explorer 

eDiscovery (Discovery Accelerator™, Clearwell™) 

Compliance Accelerator™ (for Broker/Dealer review) 
Enterprise Vault has a vast partner ecosystem that extends the archiving platform. In working with VERITAS (formerly Symantec) as well as our customers, we have been fortunate to build on the platform to help clients maximize the value of Enterprise Vault. Some of the features we've built expand upon Enterprise Vault functionality, and are valuable to companies and organizations across many industries, including banking, pharmaceuticals, legal organizations, and more.
Check out more on Archive Accelerator Export and Archive Accelerator Search in our earlier posts. Coming soon to the Vault Blog is more on Archive Accelerator Import as well!
VERITAS, Enterprise Vault, Discovery Accelerator, Compliance Accelerator, and Clearwell are trademarks or registered trademarks of VERITAS Software Corporation or its affiliates in the U.S. and other countries. 
Microsoft, Exchange, SharePoint, Outlook, and Windows are either registered trademarks or trademarks of Microsoft Corporation in the United States and/or other countries. 
IBM, Domino, and Notes are trademarks or registered trademarks of International Business Machines Corporation in the United States, other countries, or both.