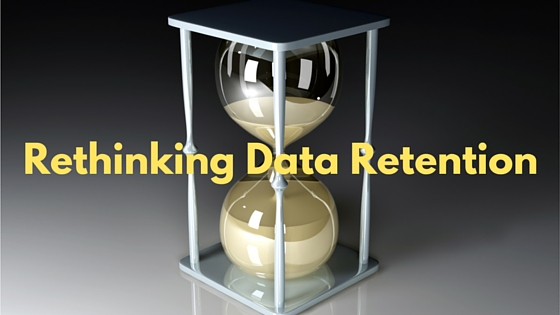 What do consumer product companies, pharmaceutical companies, and big banks have in common with everyone else? Data, of course. However, there are some distinct differences when it comes to the quantity and handling of that data. When you become a large organization, you often have to navigate complex governance issues. What data do you have to keep? Where do you keep it? And of course… for how long?
It's this last question (how long?) that organizations may not know the answer to when they're first setting up Enterprise Vault (EV) for their email or file system archiving. Often it's easy and convenient to go with the out-of-the-box default configuration. This is an all too common occurrence because creating policy around data retention takes time. But archiving data is critical and if large companies waited on policy, data would run amok! So, using the default settings might seem like the safe option. The default retention for Enterprise Vault is set to forever, meaning you may not be able to purge old or unwanted data if it was stored on a Centera.
There are three types of EMC Centera used to retain data: Basic, Governance Edition, and Compliance Edition Plus. Let's look at a few scenarios to see how Enterprise Vault could be configured to work with these different Centera models to retain data, and how some organizations are using our recently enhanced Archive Accelerator Centera Retention Manager to properly set the retention on the Centera before turning on storage expiration in Enterprise Vault.
Scenario 1: Default Retention Category set to Forever
Some large companies use Centera in Governance Mode. At the time of archiving they discover that the data stored in Centera is set to be retained forever. Years later they refine their retention requirements and determine that they can start expiring data. However, they find that they can't change the data retention settings on the Centera for data previously archived. This becomes both a space and legal issue. No longer required to legally retain all that data, companies need to purge it to avoid unnecessary legal exposure. Also, freeing up expired data can greatly reduce their storage requirements.
Enterprise Vault comes with a single, predefined Retention Category called "Default Retention Category", which is set to forever. This can be changed. However, if the setting is changed after data is archived, Centera will still enforce the original "forever" retention setting.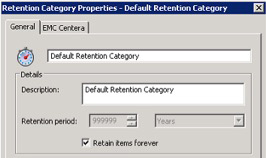 Here is where the Archive Accelerator Centera Retention Manager comes into play. When Centera is in Governance mode, Centera Retention Manager can use the Audited delete feature native to Centera, to reset the retention in such that data will be expired based on the updated Enterprise Vault retention settings.  For example, if the retention policy for the Default Retention Category was changed from "forever" to 6 years it would then be possible to start expiring data that had been archived for 6 years.
Scenario 2: 0 Retention not set on Centera
In some situations, such as when EV is configured to not transfer its retention parameters to the Centera, no retention setting is set on the items on the Centera. Although EV is set to keep data for a certain number of years at the time the data was stored on Centera, the data is stored with a zero (0) retention policy. This leaves data vulnerable to accidental or malicious deletion, a situation most wish to avoid.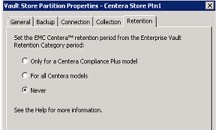 The newest feature in Archive Accelerator Centera Retention Manager enables these customers to avoid the unintentional deletion of their data already archived in Centera. It does this by effectively increasing the retention of the items already on the Centera to the proper amount of time based on the Enterprise Vault retention category used and the amount of time the item has already been archived.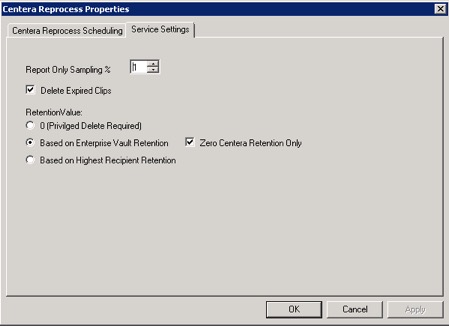 These scenarios demonstrate the flexibility of the new Archive Accelerator Centera Retention Manager. Retention Manager works with or without the Enterprise Vault Collections feature but companies that have it enabled will see a significant performance gain. It's possible to change the retention policy on data at a rate of 100,000 C-Clips per hour, which is equivalent to 10 million messages per hour.
More and more companies are finding their retention settings require modification and are looking to Archive Accelerator Centera Retention Manager to help make the changes. If you're reevaluating your settings as well, learn more about how Vault Solutions' Archive Accelerator Centera Retention Manager can help.