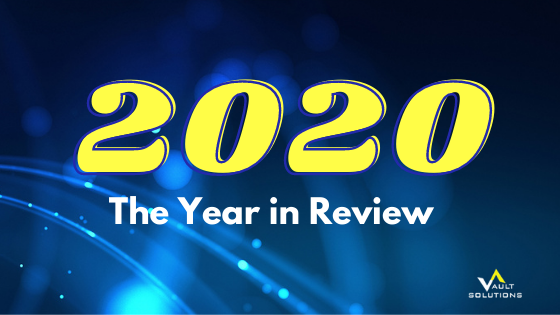 It's been a year to remember! Most will refer to it as the year of Covid… 
We could just leave it at that, but here at Vault Solutions, a lot happened! When you operate in the data space, specifically retaining, archiving, searching, and migrating data at a time when everyone is so dependent on virtual operations, things can get busy. Fortunately, that has been the case, and we are grateful to be able to help so many clients make the changes necessary to adapt their operations.
We have been adapting, too!
We have a remarkably close team at Vault Solutions. One that has been working together physically for 14 years with a solid routine in a fantastic location in southern New Hampshire. Until COVID, that is. We needed to find new ways of working together, collaborating on projects, and interacting as humans…with each other and our customers.
So… we just completed a big move – to a completely virtual company. Our team has responded extremely well, and although there were those among us with their doubts, with the capabilities of Microsoft Teams we are in touch more than ever. Productivity is up, morale is high, and we even get more frequent glimpses into each other's lives! While some of us live close to our old office, others are an hour or so away. For them, they get 10 hours a week of their lives back! As winter finally sets in here in New England, working from home makes even more sense. Even though we have had little snow this year, every day is a snow day when it comes to work, which means working remotely.
Some milestones for the year:
We moved out of a physical office, into "a world of Virtual Reality" (Rusted Root reference). 
Oddly enough, it is even easier than before to have meetings with co-workers…  
Our ever-growing datacenter for QA, support, and development moved to a co-lo facility.  
Moving into a co-lo facility gives us many added benefits such as improved uptime, much better security, and faster and more reliable network connectivity. 
We are now a Veritas Reseller (and therefore a Globanet reseller). 
Though we have been a Veritas Technology partner for all our 14 years, we have never actually been a Veritas reseller… until this year. We feel that with the Veritas acquisition of Globanet, there is a lot of opportunity to sell the Merge1 product to the existing customer base.  
It's been an interesting and unique (let's hope once in a lifetime!) year. We're looking forward to 2021 and the opportunity to see customers and colleagues in person once again!