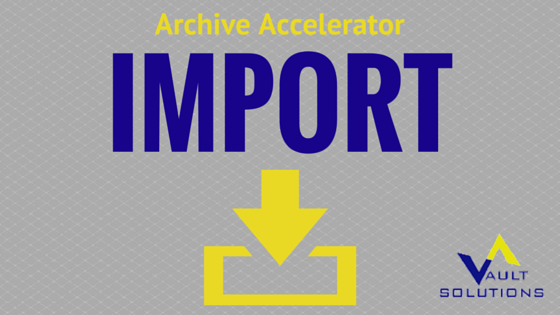 When companies need to import data into Enterprise Vault, at times it requires additional tools to get the job done. Thankfully, Veritas Enterprise Vault has arguably the most extensive API of any major archiving solution.
Initially, Vault Solutions LLC developed the Archive Accelerator Import feature for AVST™ Voicemail Archiving. It was developed with a plug-in architecture, making it easy to snap-in importers for any type of data format a customer might have – without the wait for a new version of Archive Accelerator to be released.
Typically, there are reasons that companies would need to use more than the standard tools: if they're updating their systems, importing legacy EML or MSG files into Enterprise Vault, or if they are going through a merger or acquisition. In the latter situation, data needs to be moved from one system to the other and the two sets of archived data need to live together under the new organization.
When it comes to legacy data, there are usually other factors at play like file organization and the age of the data. Often the organizations that use Archive Accelerator Import are large. We recently completed a project for a multinational bank,  bringing 40 TB of legacy data into Enterprise Vault.
Archive Accelerator Import can be used to immediately import data from a data source or it can import data on a schedule. It keeps chain of custody information about all items imported and also keeps track of what has been imported to ensure against re-importing the same data. It can be set to automatically delete imported data after a defined period of time.
Archive Accelerator Import has grown over time from supporting AVSTTM Voicemail Archiving to importing many sources of data including EML, MSG, Discovery Accelerator, and others. While no migration is too small, the speed and efficiency with which AA Import completes significantly sized jobs makes it the ideal companion for large companies in need of moving critical data securely.
TRADEMARKS. AVST and/or other AVST products referenced herein are either registered trademarks or trademarks of AVST Corporation in the U.S. and/or other countries.