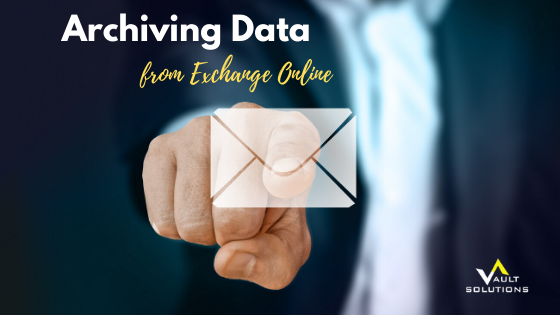 For many customers that currently have an email archiving system in place, such as VeritasTM Enterprise Vault, they often decide to discontinue mailbox archiving when they migrate to Exchange Online (Office 365).  One reason is that Exchange Online has mailboxes that typically come with a 100 GB size limit. 
If they still have a need for journaled copies of all emails for compliance reasons, they may decide to archive that data, but use SMTP archiving with Enterprise Vault. They can do that on premises or use a managed solution such as bluesource's EV247.
But even with that, there are some use cases where they still need to archive data directly from the mailboxes in Exchange Online.
Voicemail
Calendar items
Moving away from Exchange Online Archive mailboxes
Dis-satisfaction with Office 365 eDiscovery and Compliance tools
Let's talk about points 1 and 2… voicemail and calendar items. 
For voicemail, let's take a real-world case study. We have a customer, a state government here in the US, that was using a combination of journaling with Enterprise Vault and mailbox archiving. They migrated their mailboxes to Office 365 and switched to SMTP archiving. They still use Enterprise Vault on premises, and Exchange Online sends all copies of messages sent and received to an SMTP address that is picked up by Enterprise Vault on premises.
They have a regulatory need to respond to Freedom of Information Act (FOIA) requests, and as part of that requirement, they must make voice message available for request. Their voice mail system is Cisco Unity Connection which puts copies of voice message in users' mailboxes. In the past, when the customer used Enterprise Vault Mailbox Archiving, these voice messages ended up in the archives so they were available for FOIA requests. However, Enterprise Vault does not support mailbox archiving from Exchange Online, which left them in a bit of a bind when it came to the voice messages, which don't go through the journaling process.
To meet this demand, we've built the functionality into our software, Archive Accelerator, which will be shipping this month. This new functionality addresses Calendar Items as well, which also escape the journaling process and as a result aren't found in the SMTP archives. As more and more customers come to us with the need to archive data directly from Office 365 for a variety of reasons, we're committed to investing in enhancing this functionality and accessibility. 
If you are currently finding similar challenges in archiving to meet your needs, let us know! We're happy to help!
Stay safe!