As usual, customer demand inspired us to create our latest product, Exchange Exporter, for various reasons.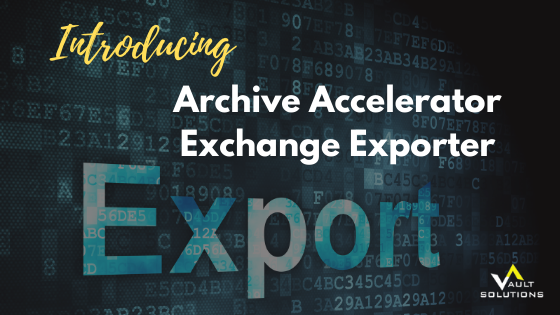 The Need
As an example, one customer decided to move to Microsoft 365 and use Microsoft e-Discovery and archiving. Once they made the move, they stopped using Enterprise Vault. Shortly thereafter, the company found that Microsoft e-Discovery and Compliance functionality didn't meet their needs, and they switched back to Enterprise Vault. During that time, they didn't journal their messages and needed to find a way to get the missing messages into Enterprise Vault from Exchange Online.  
Another customer needed to have voicemails stored in their archives. They use Cisco Unity and their voicemail messages don't go through a "send" process, so they aren't captured as part of a typical archiving process. We configured Exchange Exporter to move just the voicemail messages to the archives.
Exchange Exporter is the next step in the evolution of Vault Solutions' products. We work primarily with email…and as users migrate to Microsoft 365 and use Exchange Online, we need to go where the data is. 
The Solution
The main reason for companies to use Exchange Exporter is so that they stay in compliance with data requirements. Exchange Exporter enables them to still use Enterprise Vault for compliance and eDiscovery, even when they use Microsoft 365. Additionally, keeping a copy of Exchange Online data in the Enterprise Vault archives enables them to keep their Exchange Online mailboxes at a reasonable size by using the retention management features of Exchange Online, and avoid the cost of an Exchange Online Archiving Plan.
Exchange Exporter gives companies the freedom and flexibility to move to Microsoft 365 and maintain the compliance and e-Discovery capabilities they have come to depend on with Veritas Enterprise Vault.
Where we're headed helps customers move to the cloud and conduct business more efficiently, regardless of the systems they have in place.