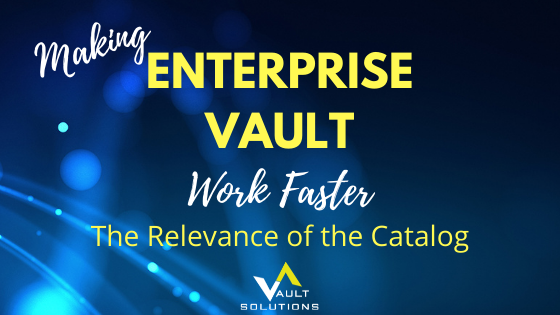 Making Enterprise Vault work faster? That's impossible, right? With the amount of data that EV servers store, it must be.
Not so fast.
A short while ago, we introduced the Catalog and explained how it can save significant time when searching vast amounts of data. One benefit to the Catalog feature is that tedious processes can be made more efficient, including reporting on the billions of items organizations have in their Enterprise Vault environments.
Since then, I've been traveling across the globe to several conferences and meetings centered around data and compliance, and the chatter is interesting – and timely. Last year, at these and other similar events, GDPR was the focus of nearly every conversation. This time around, the conversation has shifted from protecting data, especially personal information, to how we can find and utilize the data.
It is in these conversations that the focus has been the functionality of the Catalog and how it's becoming more and more relevant. There is so much that you can do with your data when you use the Catalog that you can't do otherwise, whether the archive holds email messages or file system archives.
For example, if you use Veritas Information Classifier to set tags on items in Enterprise Vault, such as a tag indicating an item includes Personally Identifiable Information (PII), you can use the Catalog to generate reports on which items include that tag. Generating such a report using the Catalog is extremely fast and efficient, even with the largest of Enterprise Vault environments.
Just today we were approached by a bank in Europe needing to comply with certain MiFID II regulations affecting the financial services markets. Out of nearly 7,000 pages in the regulation, there is a requirement to report certain data, including message senders and recipients, to name a few. Again, the Catalog can help them meet some of their reporting requirements with ease and in a timely fashion.
We are seeing more and more use cases for the Catalog. How can the Catalog help you with your data?