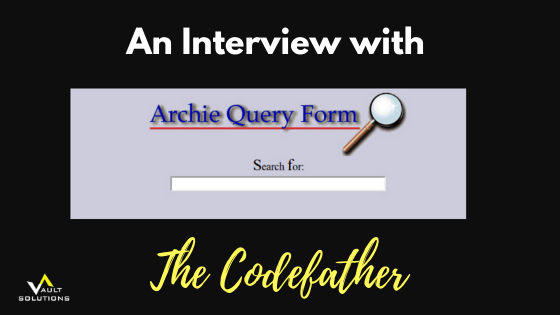 One of the most useful aspects of the internet is the ability to search the whole thing in a split second. Most people do that with Google or Bing these days. Back when I worked at Digital Equipment Corporation, I used AltaVista which was a favorite search engine before Google came along. AltaVista was developed at Digital back in 1995. It was the first search engine used in Enterprise Vault, which was also developed at Digital. (Enterprise Vault is used by many companies to archive their email and file systems, and provides a way to search the archived data, though it has since moved on to a different search engine.)
But let's go back even further… to 1990. At that time, there was an internet, but not yet a way to search what was out there. Everything was done by using command line tools like Archie, Usenet and Gopher. That is when I first used Archie… who's name, by the way, comes from the word Archive without the 'v'. The ability to search this awesome new world of the internet so quickly was a game changer. Archie was built by a student at McGill University in Montreal named Alan Emtage, who was working on his Masters at the time. In 2017 Alan was inducted into the Internet Hall of Fame.
Our own Tyler Reed recently caught up with Alan in Alan's native country of Barbados and asked how it all started.  Many thanks to Tyler and Alan for doing the interview. 
At just under 6 minutes, it's a short and sweet snippet of Internet history… Enjoy!
For more about Alan's history, check out this profile from 2013:
https://www.caribbean-beat.com/issue-122/alan-emtage-codefather#axzz6CphzkEUx
There is still a web version of Archie maintained for posterities sake located here: