Is your Enterprise Vault data analyzed?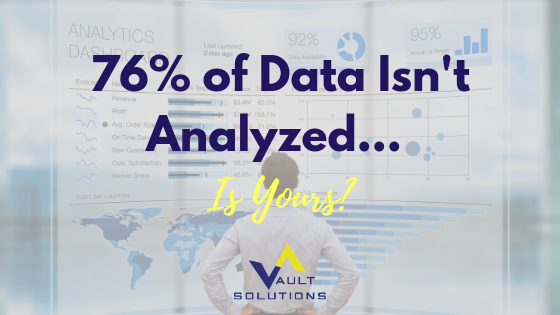 At Microsoft's recent Inspire conference in Las Vegas, Satya Nadella quoted a statistic from Forester that 76% of data is not analyzed.
In virtually all cases, the data sitting in an Enterprise Vault environment falls into that category. While it is relatively easy to search on that data, it is not easy to gain insights from it. For example:
How many messages have been sent to your competitor, by whom, and when?
How many messages did the supply manager send to a supplier over a given date range? This may be needed if there is a potential lawsuit and they need to know how many emails may be subject to review by outside counsel.
Who does a given custodian communicate with most frequently?
These types of queries can be done using Discovery Accelerator, but quite often running the searches is relegated to a small team who must keep a close eye on the demand for Enterprise Vault indexing resources.
Having your Enterprise Vault data analyzed can unlock its value for non-technical users.
There would be no need to enlist the help if IT to perform such queries, and it would not compete with the existing indexes required for Discovery Accelerator searches.
These questions could be answered in a split second, with no strain on the indexing resources.
You could enable such queries to dozens of people without adverse effect on your archiving platform.
This is all mode possible by combining our 'Catalogue' product with Microsoft's business intelligence platform, Power BI. Searching on data in Enterprise Vault the traditional way takes minutes, and consumes valuable, limited indexing resources; searching on it with the Catalog take seconds, without consuming indexing resources, and using Business Analytics enables queries to happen at sub-second speed.
Which way sounds better for you and your team?
Contact us to learn how you can get more value from your archived data.