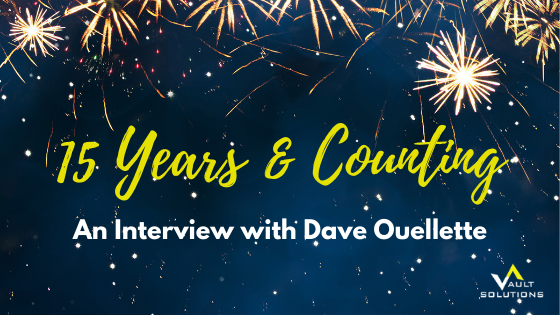 Being in business for 15 years is quite an accomplishment, so we sat down with Vault Solutions co-founder and President, Dave Ouellette to get his take on this milestone! Learn the secrets behind Vault Solutions' success and see what's in store for the next 15!
Q: 15 years! That's awesome. How does that make you feel? 
Dave: It's been a decade and a half of helping companies manage their data and analytics, and we couldn't be prouder of how far we've pushed the data archiving needle. As we look back on the past 15 years, we've got a lot to celebrate! 
Q: What gave you the nudge to start Vault Solutions?
Dave: We founded Vault Solutions because back in the early days, I was the one responsible for finding third-party solutions that could add certain functionality to Enterprise Vault. In looking to fill those gaps, I realized there weren't solutions that could do the job… so we decided to start a company that would build them. 
Q: What are some of the big accomplishments that you've achieved over the past 15 years?
Dave: We've helped hundreds of companies across the globe manage their data, including many of the largest banks in the world and some of the most prestigious law firms.
We have earned the role of a trusted partner, working hand in hand with Veritas, and many of our products have actually been commissioned by them to ensure customer success. 
And, most of all, we have loyal, committed employees that mean the world to us. On average, they've been with us for over 10 years, and only one employee has ever resigned…only to come back 2 years later! 
Q: Is there one product that stands out most to you? Do you have a favorite?
Dave:  We're proud of our products, all of which have been driven by customer needs. But I think if I had to pick one, ok – 2, it would be the Catalog and Policy Manager.  
Q: Why those 2?
Dave: Many years ago, we needed to create a product that would export data. That was the first step. Then, a company we were helping asked for something to help export just the metadata and fast. Like 2 million messages per hour fast. Another customer wanted that metadata in a database, and the Catalog was born with a sub-second response time.  
To top it all off, companies were asking for the capability to do things with that info that was now identified in the catalog, like change retention settings, move to other locations, etc. That added functionality was made possible with Policy Manager.
They really change the way companies manage their data, and save exponential time and resources. It's pretty neat.
Q: What does the future hold for Vault Solutions?
Dave: It's pretty wild when you think about it – only 25% of new businesses make it to 15 years or more. We're 100% bootstrapped, and still 100% founder/family-owned and operated…and proud of it! 
We're on a roll and love what we do. Everything we build helps our customers succeed. It enables them to do what they need to do better and more efficiently, and that's what it's all about. So, what does the future hold?
Our customers are asking us to have our Policy Manager and Catalog products work directly with Microsoft 365, and we'll be releasing that update in 2022. That product will vastly expand our target market, increasing the number of customers we can serve worldwide.
We're going to keep making data management even easier, faster, and more functional for companies across the globe. For at least another 15 years!