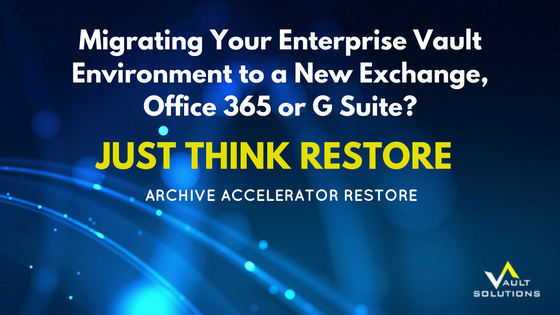 Are you searching for a simple and cost effective way to migrate your VeritasTM Enterprise Vault archives to Exchange, Office 365 or G Suite? Businesses and municipalities of all sizes have an efficient and effective option to do this using Vault Solutions' Archive Accelerator Restore product. An excellent solution for small and large companies, Archive Accelerator (AA) Restore boasts ease and simplicity, and features many valuable characteristics, including:
Easier deployment than other restore products in the market
Ability to run on existing hardware
Ease of administration, in-house by your own team
Can be installed and ready to run in an hour (in typical situations)
Your full restore completed within a week (for smaller companies)
Have more than 1,000 mailboxes to restore?
AA Restore isn't just for small organizations. Large companies often appreciate capabilities of Archive Accelerator Restore including:
Installation on multiple servers
Ability to load-balance across those multiple servers
Running during off hours, around the clock, or anytime you choose via its scheduler.
With AA Restore, regardless of the size of your business or how many mailboxes you are looking to restore, you can take advantage of other standard features that make restoring secure and efficient. (It has been used by some of the largest global financial institutions.)
Straight Through Processing (STP)
Restore your archives directly from Enterprise Vault to their destination without an intermediary stop. This optimizes not only the speed and efficiency of the process, but the security and integrity as well.
Full audit to enable Chain of Custody reporting
For organizations that need to maintain accurate chronological documentation or a paper trail that shows all activities of electronic evidence, including transfer and disposition.
Easy retry of failed mailbox items
The restoration of items sometimes fails because destination mailboxes may have inadequate default settings, fill up too quickly, or can't accept a large file. AA Restore enables users to single out and retry the failed items rather than repeating a large-scale restore.
If you are looking for an easy and efficient way to restore your mailbox archives when migrating to Exchange, Office 365, G Suite, or elsewhere, take a look at the benefits of Archive Accelerator Restore. We are happy to assist!