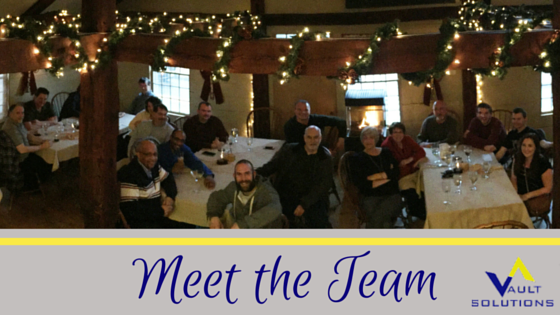 We have an incredible group of professionals on the Vault Solutions team, and one by one we'd like to introduce them to you! First up is Joe Famularo, our Director of Technical Support & Services.
How long have you been with Vault Solutions?
5 years 10 months
What brought you to Vault Solutions?
Vault Solutions was searching for someone who had a breadth of experience in customer support. My background assisting customers on-site and remotely, technical expertise, and commitment to always strive for a job well done seemed to fit with the opportunity open at Vault Solutions.
Over the years I've had the privilege of both working with and for Dave in a number of software engineering projects at Digital Equipment Corporation. This paved the way for a longstanding work relationship as well as a personal friendship that I value very much.
What do you love about what you do every day? 
I very much enjoy solving issues for our customers. Whether a simple question or in-depth technical problem, the satisfaction of providing a solution is fulfilling.
What do you do when you're not at the office?
With my wife by my side I love enjoying the ambiance of Portsmouth and the seacoast. I enjoy simply visiting our favorite downtown coffee house, meeting friends, shopping at the local farmers market and then cooking up a storm. Yes, life's simple pleasures mean a lot to me.
What's a fun fact that most people don't know about you?
One of my favorite TV shows of all time is the Andy Griffith show (1960-1968). Every show ends on a happy note in Mayberry. It puts my mind at ease and helps me to relax.
What else would you want people to know?
I'd like my customers to know that I'm here for them and strive to exceed their expectations. I'm grateful for the fine team of professionals we have at Vault Solutions and thankful that my talents contribute to the success we've experienced over the years.