It's already November, and as we got together for our Quarterly Meeting a few weeks ago to recap the last few months and plan for the end of the year, we realized that Dave has been all over the map, literally! Where have his data adventures taken him?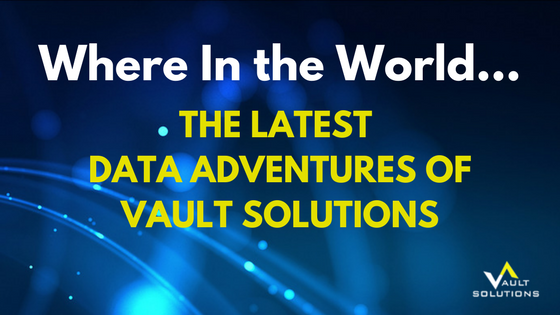 The Vault Solutions team kicked off the fall with the Veritas Vision conference in Las Vegas. Eight members of our team spent a few days learning about the latest advancements from Veritas, networking with Google and other partners, meeting with clients and resellers from all over, and showcasing our latest product enhancements. It is always a busy and productive time in Las Vegas, and always, we came back to New Hampshire energized by what's ahead! 
Since then, Dave's been on the road working directly with clients and partners looking for ways to enhance their Veritas Enterprise Vault deployments, and the team has been hard at work back home. We've been continuing our work improving the already fast and efficient performance of Archive Accelerator Enterprise Search, and simultaneously we've been seeing increased traction in its adoption. 
One of the places we're seeing that surge of interest and sales in in South Africa – hence Dave's travels across the map! Because of local regulations customers are required to keep their data physically in the country.  Vault Solutions has been working with Veritas, their partners and customers to provide a combination of Enterprise Vault (on-premises) and our Archive Accelerator Enterprise Search product to provide a solution similar to that provided by Enterprise Vault.cloud in other countries that have an Enterprise Vault.cloud data center. 
We're excited to finish 2017 strong, bringing even faster performance to our customers, preparing for new feature releases, and helping our clients around the world keep their data safe, secure, organized, accessible and in compliance with their local regulations.