Veritas Enterprise Vault File System Archiving (FSA) is a great way to help with storage management by replacing the original file in your file system with shortcuts that enable users to access the data transparently. This helps you to minimize storage costs by moving infrequently accessed files to a much less expensive storage solution, taking advantage of features like single instance storage and compression in Enterprise Vault.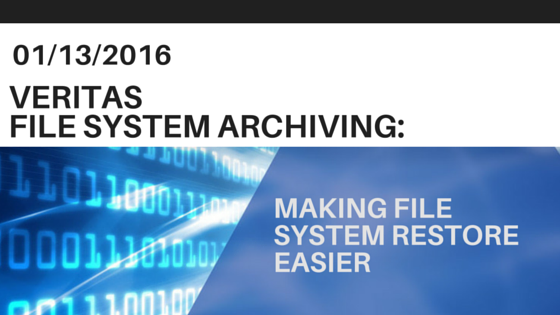 Over the past few years, there has been significant number of discussions about the pain points regarding storage that managers and professionals in the IT world face. According to an EMC report, 79% of respondents noted that managing storage growth was a pain point in their day to day responsibilities. Second to that was designing, deploying, and managing backup, recovery, and archive solutions at 43% in 2013-2014*.
Occasionally, because of a change in hardware or software, mergers or divestitures, or the need to conform to new policies, it becomes necessary for companies to conduct mass data restores from their archiving environment. Recently, a large global bank found that they needed to re-implement FSA in the US to address new global policies governing how they managed their data.
Depending on the amount of data to be restored, the FSAUtility, command line utility provided by Veritas, is often used. However there are a number of restrictions that people face when using FSAUtility.
It is single-threaded
It restores files to their original location rather than where the shortcuts currently reside
It doesn't handle long file paths
Working with Symantec (now Veritas) to address these restrictions for those needing better options for restoring mass data, we enhanced our Archive Accelerator application to provide the ability to do mass restores of FSA data.  We created an application that:
Is multi-threaded
Restores files to their intended location (shortcuts)
Supports long file paths
And also:
Supports scheduling
Is able to track and retry errored items
Provides a full audit trail
In order to resolve the issue of  long file paths and enhance performance, we utilized a lower-level Windows API. This enabled FSA Restore to not only work with long file paths, but increased performance to an impressive rate of more than 3TB per day!
When looking for an efficient and cost-effective way to manage and restore mass quantities of data, Archive Accelerator FSA Restore has a number of options available for you.
*Source: Managing Storage- Trends, Challenges, and Options (2013-2014). (EMC, 2013)