The short answer: Time, Money, & Trouble.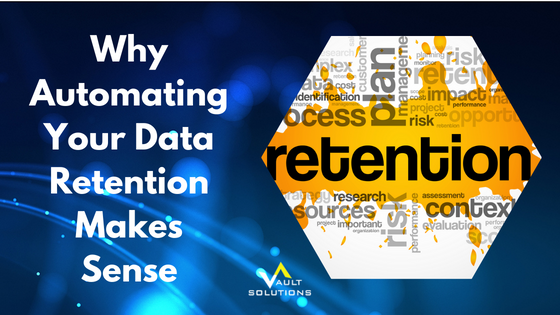 Governance in Office 365 was a hot topic at a conference I recently attended. I was pleased about how much time was spent talking about it. It means it's important and there's a need.  
By now, everyone knows about GDPR. It applies to companies in Europe, and those that do business with people and companies in Europe, but increasingly there are GDPR-like and GDPR-inspired regulations coming to play here in the US. While there isn't a federal data protection law that protects all consumers, certain industries have them, and recently, some state governments have begun to implement these regulations as well. For example, the banking, financial, health, and insurance sectors all have compliance requirements when it comes to retaining, storing, and disposing of records.  
But how do large companies manage their data to stay in compliance, while not overwhelming resources and staff?  
The truth is you can't rely on users to manually set retention policies.  It's just not realistic. It takes too much time, failing to delete unnecessary records costs money, and manual retention setting risks human error and potential litigation. This is where automation steps in. 
Data retention not only addresses legal requirements but enables companies to eliminate excess data. Having a set policy that automatically categorizes data helps an organization hold onto valuable information while purging records that have little importance or value – without manually archiving or deleting. This practice of having policies in place to automatically set retention policies based on certain characteristics or events (someone leaving the company, for example) ensures that the appropriate records are retained and saves money by clearing out those that are simply taking up space. Having data automatically set to delete based on a compliance schedule also reduces the risk of litigation and eliminates the need to migrate unnecessary records. 
The reality is that there are data protection laws for, no surprise, our protection. And truthfully, they are simply supporting retention policies – the rules established for retaining and disposing of an organization's records. Setting up your records classification to update automatically according to the predetermined settings in your retention policies helps you stay in compliance with these ever-changing laws, and saves time, money, and maybe most importantly, trouble.