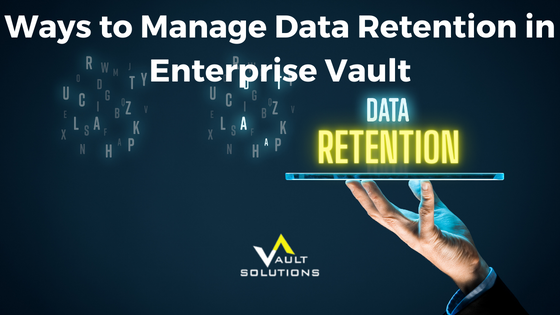 For users of Veritas Enterprise Vault, managing the retention of data is an ongoing challenge. That said, there are different ways this challenge can be addressed depending on timeline, end goals, and in some cases, regulatory requirements.
There are a few outcomes that best practices in data retention can deliver, including:
Enhanced speed and efficiency of managing and accessing data
Reducing storage costs 
Limiting liability and ensuring compliance with industry guidelines and government regulations
Having a clearly defined and automated system and structure in place 
Enterprise Vault is often purchased with the intention of preserving data, but at the time of implementation, users don't often know what the policies should be. What typically happens in this case is that the default retention is used, which is set to keep data forever.
More and more companies are realizing that isn't the best strategy, and that they need to get their data under control. It's not only important to retain data, but equally if not more important to get rid of it when you don't need to keep it in your archives.
In this post, we're going to briefly examine each of the ways you can preserve, or purge, your data in Enterprise Vault.
You can tell Enterprise Vault directly what the retention policy for a particular set of data should be, so it knows when to purge the data.
You can also tell Enterprise Vault to not allow deletion of items in an archive. This will prevent users from deleting items and prevent the storage deletion process from deleting expired items.
You can use EV's Discovery Accelerator if you want to put someone's email on hold. To do this, you would create a case, search for data, find results, tell DA that the case is on hold, which DA then tells EV.
You can use Veritas Information Classifier (VIC) to set retention categories on items as they are archived in Enterprise Vault.
You can use Vault Solutions' Software, Policy Manager. The difference between VIC and Policy Manager is that with the latter, you can change the retention category of items not just when they're archived but at any time afterward. With VIC, you can also re-categorize items to give them a new retention category, but that requires re-indexing the archive.
Enabling users to make changes after data is archived makes Policy Manger an extremely valuable tool for many industries, including financial, legal, engineering, and more.

Here are a few industry-specific drivers for data archiving and the priority for functionality.
Legal 
Typically, law firms are focused on mailbox archiving. They don't want to hold onto anything they don't have to, and they also don't want to have more than one copy of an item. Quite often using a 3rd party document management system, like NetDocuments or iManage, is helpful. Learn more about this using Outlook Accelerator here!

Financial
Banks and other financial institutions focus on journals and need to keep their data for at least 6-7 years due to regulatory requirements from organizations such as the SEC and FINRA. Financial institutions are also heavy users of the Legal Hold capability of Discovery Accelerator.

Engineering
Engineering firms quite often need to hold onto certain types of file systems data – QA data and records, for example – for a long time. They need to hold onto it, but rarely need to reference it, which is why they put it into archives. There isn't usually much variation in how long they need to hold onto the data.

Other
Other industries that need to conduct more frequent inquiries, like pharmaceutical companies, are concerned with archiving in a manner that makes the data easy to review.
At the end of the day, the best method for you depends on your compliance and eDiscovery requirements. If you'd like to dive deeper into the right option for you, give us a call. We're happy to help!