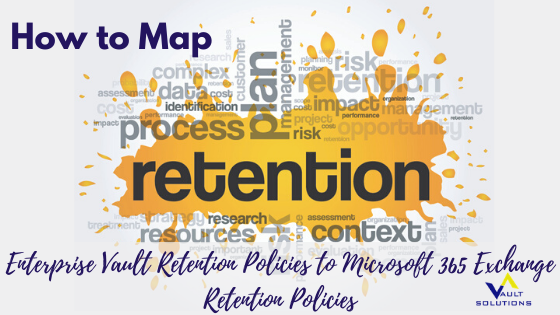 You're facing the task of moving your on-premises email from Veritas Enterprise Vault™ to Microsoft 365 (formerly Office 365). Now you're wondering how to implement retention policies in Microsoft 365 similar to Enterprise Vault. How will these policies transfer? Is it even possible? How do I make sure our policies are exactly what we need and that all these messages have the correct retention policies in Microsoft 365?
Veritas Enterprise Vault™ policies consist of retention categories, retention plans, storage expiry, and legal holds. Microsoft 365 mailbox policies are defined by retention tags and retention policies. Retention tags define the name, type, retention period, and retention activity. The retention policy consists of a retention tag or multiple retention tags. It is this policy that is associated with a mailbox or group of mailboxes that defines the retention. A mailbox can have only one retention policy associated with it.
The Enterprise Vault retention and mailbox policies can be mapped to Microsoft 365 retention policies, and then these retention policies are applied to the mailboxes. The policies and tags can be found in Exchange admin center | compliance management.
Microsoft has some excellent information on this process, but in a simple outline, these are the steps you need to take before migrating your mailboxes to Microsoft 365. Keep in mind that if these steps are done post migration of the mailboxes, the default retention and deletion policies of Microsoft 365 will take effect:
Create new retention tags for the archive and deletion policies 
Create a new retention policy or multiple retention policies 
Assign a retention policy to user mailboxes 
If you choose to do so, make one of the newly created retention policies the default for your organization. 
To illustrate, let's look at an example from our fictitious company named the Contoso Corporation.
The current retention and mailbox policies applied to the CONTOSOEV1 Enterprise Vault mailbox archives are…
CONTOSOEV1 Enterprise Vault

Mailbox Policy: Archive messages older than 3 months
Shortcut Deletion Policy:  Delete shortcuts after 2 years 
Retention Policy: Keep items 10 years 
Keep in mind that the Enterprise Vault Mailbox Policy above, defines messages are to be archived when they become older than 3 months. This is typical for the purpose of saving space on on-premise Exchange Servers. If enabled, Enterprise Vault will create a shortcut for the archived item in the user's mailbox. So, the user still has access to the item in the archive directly from the mailbox. There is also an optional policy in Enterprise Vault for how long to hold onto Shortcuts. This is set at Contoso for 2 years. This is typicallydone to manage the total number of items in a mailbox.
In this example, we'll create new Contoso retention tags and policies in Microsoft 365. Additional retention tags can be added to the policies as required.
CONTOSO

retention policy: Contoso Retention Policy 

retention tags:

Contoso 2 year move to archive
Contoso 10 year delete  
Since there are generous mailbox quotes in Exchange Online (typically 100 GB as of this writing), there is no need to archive an item after 3 months. Instead, we'll keep them in the mailbox, but set up a policy to move messages to the Archive mailbox after 2 years, which is how long users are used to having mail remain in their mailbox.
Next, we'll apply the Contoso Retention Policy to Microsoft 365 mailboxes. This policy includes the two new tags…
Move to archive: Defines the time period a message can remain in a mailbox before being moved to theuser's In-Place archive.
Delete: Delete after 10 years.
Now, when users are migrated to Microsoft 365, they should have a similar experience to that which they had with Enterprise Vault Mailbox archiving.  The fewer changes, the better! 
Have you migrated from Enterprise Vault to Microsoft 365? If you haven't mapped your retention policies and you're looking for some guidance, check out the link above, or give us a call. We're happy to help!