We recently migrated our mailboxes to Office 365, and I'm expecting that to be the last mailbox migration we'll ever have to do! And we're not the only ones. We're seeing more and more companies making the move to Microsoft's Office 365, and for good reason. It's chock-full of features that make running a business so much easier and more efficient:
Don't worry so much about storage anymore! 50 GB per mailbox – although some plans that include Archive Mailboxes have unlimited storage
All plans include online versions of Office, including Word, Excel, and PowerPoint
Some plans include full Office for up to 5 PCs or Macs per user
1 TB of File Storage per user – although some restrictions apply on max file size, types, etc. and this is NOT a replacement for local file storage or services like Dropbox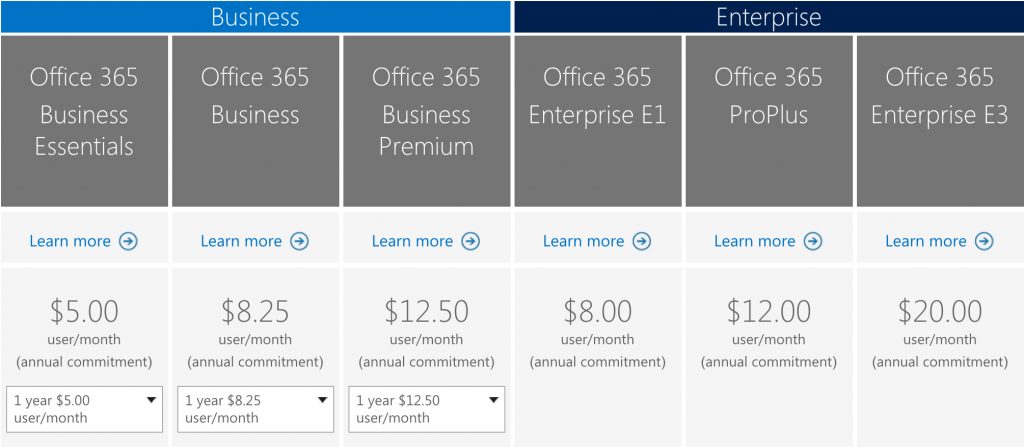 Click on the chart to head to Microsoft's pricing page!
In addition to these storage and app features, other new features are arriving often, and so far, we're impressed. These features, such as Sway, a new application to create online presentations that adapt well to different screen sizes, and Clutter, a new mail feature that learns what messages you don't normally read or respond to and moves them to a 'Clutter' folder, are improving efficiency for many. So far, Clutter has worked well for me in the first few weeks since it appeared, and Sway has been fun to explore.
What else should people think about when migrating?
For larger companies, there's an additional benefit to moving to Office 365. It could very well be the last time they had to get new software, servers and storage for their email environment! See here how GE just signed a 300,000 seat Microsoft Office 365 contract. That's huge! I also know for a fact that some IT departments don't like this, because it can result in job cut-backs. It may be time for some of them to move on to other areas, such as big data.
What about mailbox archives? If companies have been using a 3rd party email archiving product such as Symantec (soon to be Veritas!) Enterprise Vault, they often take this opportunity to move the archived email up to Office 365. If they have an Office 365 plan that includes Archive Mailboxes, they move the archived data there. Our product, Archive Accelerator Restore, can migrate the data directly to Office 365 Mailboxes, or Archive Mailboxes. Click here if you're interested in learning more about how.
Of course, if you are an organization that also needs to do email journaling, such as a financial institution, you'll likely still want to keep your email journals. We see many companies move the mailbox archives to Office 365 (or even Exchange 2010 or 2013), but keep journaling for compliance and e-discovery reasons.
We're excited about our migration, and are pretty sure the masses that are moving to Office 365 are pleased as well. Are you excited? Having challenges? If you're looking to migrate and are looking for a hand with your Enterprise Vault archived emails, Vault Solutions is here and happy to help!